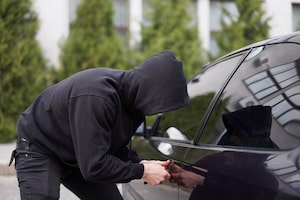 Criminal activity that involves theft and property can encompass many different offenses, such as trespassing, vandalism, shoplifting, robbery, and burglary. Stealing a car is a common crime in many states throughout the country, including Illinois. In some cases, a person may take a vehicle without the owner's permission for specific auto parts, including wheels or rims, while someone else may wish to take the car for a joyride. Motor vehicle theft is an offense that is commonly linked to other crimes. For example, stolen cars are typically used in store or bank robberies since the stolen automobile is not tied to the perpetrator. Regardless of the reasons or the motives, anyone who takes another person's vehicle can face serious charges under Illinois' theft laws.
Illinois Punishments for Stealing a Car
Although many people may have heard the term "grand theft auto," it is not an actual criminal charge. The theft of a vehicle falls under general theft statute in Illinois. In order to secure a conviction in these cases, the prosecution must prove there was intent to permanently deprive the car's owner of its use or benefit. If someone did not intend to permanently separate the automobile from its owner, a theft charge may be dismissed.
The penalties vary depending on several factors, including the value of the stolen property and the owner. A perpetrator can face a myriad of punishments, including costly fines, a suspended or revoked driver's license, probation, community service, restitution, or years of imprisonment.
...