Will County Police and Firefighter Workers Compensation Lawyer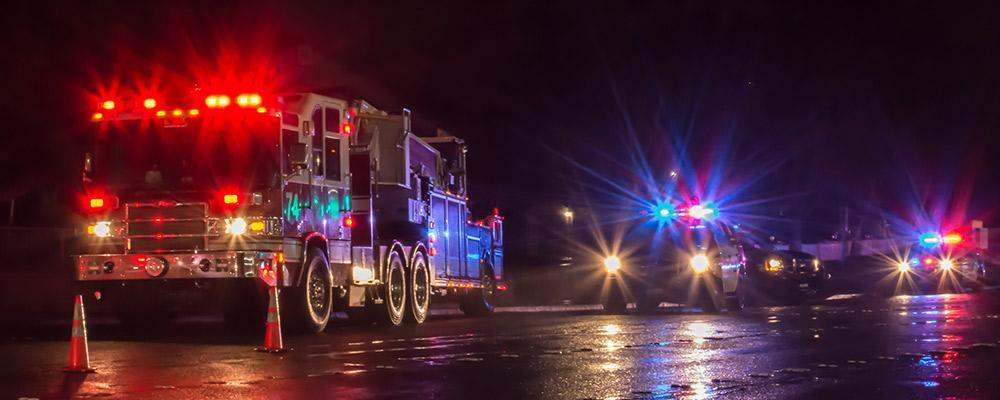 Injury Attorney Handling Workers' Comp Claims for Law Enforcement and EMTs in Joliet, Frankfort and Bolingbrook, IL
Law enforcement and firefighting are two occupations with a particularly high risk of on-the-job injuries. Every day you go to work you are putting your life on the line. The attorneys at McNamara Phelan McSteen, LLC are well versed in recovering compensation for the injuries those who protect us are exposed to including:
Back and neck injuries sustained in motor vehicle crashes.
Sprains, strains, and fractures resulting from falls during an emergency response or during training.
Traumatic brain injuries and catastrophic physical injuries sustained while fighting fires or apprehending violent criminals.
Repetitive stress injuries caused by repeated movements such as climbing in and out of vehicles or carrying heavy objects.
Post-traumatic stress disorder, depression, or mental breakdown resulting from a work accident, traumatic event, or repetitive exposure to such events.
Diseases or health impairments resulting from hazardous exposures, such as chemicals, smoke, or blood-borne pathogens that might be encountered at the scene of an emergency.
Illinois police officers and firefighters (except those employed by the city of Chicago) may claim Illinois Workers' Compensation benefits for injuries sustained while at work.
At McNamara Phelan McSteen, LLC, we deeply appreciate the police officers and firefighters who serve the communities where we live and work in Will County and surrounding areas. If you have been injured in the course of your work, we want to make sure you receive all due compensation. We have successfully represented clients in Workers' Compensation cases for over 20 years.
We are prepared to handle all aspects of your case including settlement negotiations, arbitration, appeals to the Illinois Workers' Compensation Commissioner Panel, and appeals through the state courts.
Our firm also helps clients with personal injury and wrongful death claims when an injury can be attributed to the negligence of another party such as a reckless or drunk driver. For the purpose of Workers' Compensation claims, it does not matter who was at fault, only that you were injured while at work.
Workers' Compensation for Firefighters and Police Officers
We have helped hundreds of firefighters, EMTs, police officers, sheriff's deputies, state troopers, and corrections officers obtain Workers' Compensation benefits. We are fully knowledgeable about the details of the Illinois Workers' Compensation Act (805 ILCS 305) specific to your occupation and how it relates to the Illinois Public Employee Disability Act (5 ILCS 345), the Illinois Public Safety Employee Benefits Act (820 ILCS 320), and the Illinois Pension Code (40 ILCS 5).
For example, the Workers' Compensation Act gives the benefit of the doubt to firefighters and EMTs/paramedics with five or more years of experience when they make disability claims arising out of certain health conditions. These conditions are presumed to be caused by their work, subject to rebuttable evidence presented by their employer:
Conditions caused by blood-borne pathogens
Cancer
Any cardiovascular condition including hypertension
Hearing loss
Hernia
Any lung or respiratory condition
Tuberculosis
Under the Public Employee Disability Act (PEDA), corrections officers, law enforcement officers, firefighters, and EMTs who are injured at work may qualify to receive their full salary tax-free for up to one year.
Under the Public Safety Employees Benefits Act (PSEBA), corrections officers, law enforcement officers, firefighters, and EMTs who are catastrophically injured in an emergency response situation may be eligible for lifetime health insurance coverage if their injury prevents them from returning to their former line of work, even if they are capable of another type of work. This health coverage extends to the employee's spouse and dependent children in the event the emergency response situation resulted in death. The children may also be entitled to free tuition at a taxpayer-supported university, community college, or vocational-technical school.
A Will County Workers' Comp Lawyer Who Will Serve You When You Are Injured on the Job
As a police officer or firefighter, you knowingly risk your own safety in service to others. We thank you and applaud you for your service. If you have been injured in the line of duty, it is our turn to serve you. Contact the Joliet office of McNamara Phelan McSteen, LLC at 815-727-0100 for a free consultation. We serve clients throughout Will County, including the cities of Bolingbrook, Crest Hill, Frankfort, Homer Glen, Joliet, Lockport, Mokena, New Lenox, Plainfield, Romeoville, and Shorewood.