Todd J. Polito
Attorney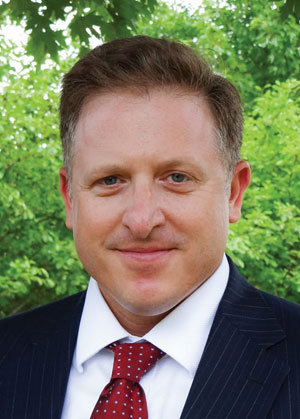 Born and raised in Joliet, Illinois, Todd has been surrounded by legal role models his entire life. His father, the Honorable Joseph C. Polito (retired) built a highly successful legal practice in Will County before being appointed as an Associate Judge in the Twelfth Judicial Circuit, Will County, which gave Todd the opportunity to regularly interact with many of his father's colleagues and fueled his passion for the legal profession at a young age.
Todd served in the United States Navy for four years, earning the prestigious Naval Achievement medal before being honorably discharged. Upon returning to civilian life, Todd built a successful 12-year business career as an executive with Marriott International hotels.
Over time Todd came to the realization that his true calling was in the legal field and left to pursue his legal career. He joins McNamara, Phelan and McSteen with extensive criminal and family law experience with another successful local firm. Todd takes great pride in striving to be the most prepared lawyer when appearing in any matter. He communicates regularly and openly with his clients to ensure they are actively involved in the direction of their case.
Todd is married with two children and resides in the northwest suburbs. He and his wife, Amanda, are avid outdoors people, spending most free time hiking, running, canoeing and biking. Todd also finds time to coach his kids' sports teams and occasionally swings a golf club.
Practice Areas
Criminal Defense
Family & Matrimonial Law
Driver's License Reinstatement
Real Estate
Landlord & Tenant Law
Bar Admissions
Education
John Marshall College of Law, 2012, J.D.
Northern Illinois University, 2007, B.S.
Professional Associations
Will County Bar Association
DuPage County Bar Association
Illinois State Bar Association
Family Law Section Illinois State Bar Association
---
Testimonials
"I was in a very unique situation and had my driver's license suspended for a whole year due to a misunderstanding where a police officer thought I had a fake ID. I was told by countless other lawyers in the area that deal with license suspensions that they have never heard of such a situation, that I had no case and that I would be wasting my money trying to fight the (in my opinion) wrongful suspension.Todd took on my case with optimism and no judgement. He was very professional and a pleasure to work with. He helped me through the process of a formal hearing at the Secretary of State's office. Best case scenario, we were hoping for my year long suspension for a fake ID to be changed to a 3 month suspension for underage drinking. I ended up getting my license back and not having to serve a 3 month suspension either. My expectations were absolutely exceeded and I highly recommend Todd as a legal representative."
"I am an attorney who came to Todd after I was arrested for a DUI and speeding. Working with Todd was a pleasure. He was responsive and I never had to worry about when court was or what he needed from me. I was always informed. As an attorney, I knew my case was not going to be easy which is why I wanted to find the best lawyer I could. Enter Todd Polito. Both he and his firm have an incredible reputation both statewide and in Will County. Long story short, my case was successfully dismissed. Additionally, Todd was extremely helpful with non-court related matters including working with the Secretary of State and potential employment issues regarding my arrest. Put simply, you can't do any better than Todd Polito. His knowledge of the law and his relationships with prosecutors and judges is invaluable."