Will County Motorcycle Accident Lawyer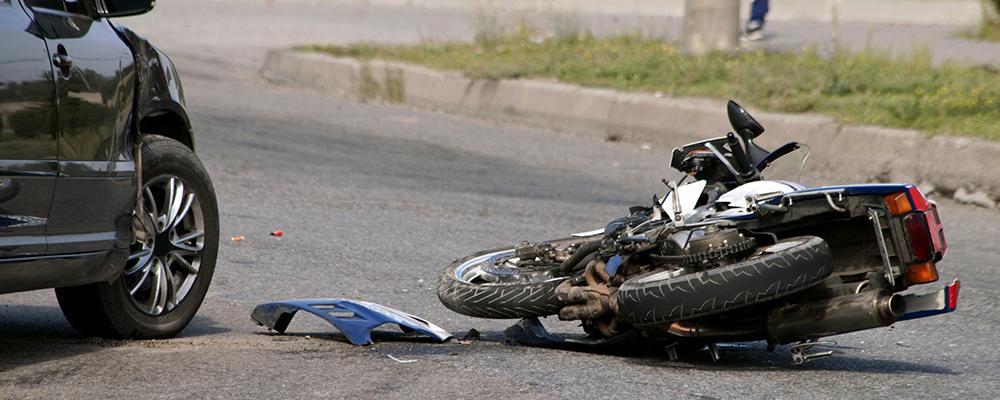 Personal Injury Attorney for Motorcycle Crashes in Bolingbrook, Lockport and Plainfield
Motorcycle rides can be enjoyable adventures, whether you are touring, cruising, off-roading, or motocross racing. Thankfully, most rides end safely, even when a rider lays their bike down, thanks to protective apparel, helmets, and airbag jackets. But when an adventure ends in a serious crash and a cry of "Bike down!" the injuries can be life-altering.
Illinois Law Requires Determination of Fault
A motorcycle rider can be severely injured in a car accident or a crash involving a commercial truck. If the accident was caused by another driver's negligence, that driver should pay for your medical expenses, lost income, and other damages such as pain and suffering. However, the burden is on you to prove the other party's negligence or fault.
In some cases, a motorcycle rider may be deemed entirely responsible for a crash. For example, if you are driving too fast for conditions and your bike skids out of control, causing you to run into a minivan, you could be deemed entirely at fault for the crash. If you are 100% at fault, you do not have a valid claim for compensation from the minivan driver.
In other cases, a crash is entirely the fault of another party. For example, if you are on your motorcycle stopped at a red light, and a sedan comes up behind you and runs into you, the car driver would be at fault. Because you were injured due to the sedan driver's negligence, you have a valid claim for damages against them.
In many cases, fault is shared. Under Illinois law, if you are assigned 50% or more of the fault for an accident, you cannot collect damages from other drivers involved in the accident. If you are assigned 49% or less of the fault, you can make a claim for damages, but your payout will be reduced by your percentage of fault. For example, if you claim damages of $100,000 and the accident was 25% your fault, your damages will be reduced by 25% to $75,000. This is known as "modified comparative negligence" or "modified comparative fault."
How a Joliet Personal Injury Lawyer Can Help
At McNamara Phelan McSteen, LLC, we empathize with the pain and suffering that can result from a motorcycle accident. We will thoroughly investigate your case to identify where the fault lies and strive relentlessly to obtain full and fair compensation for all of your damages.
Some injuries may require years of medical treatment or result in permanent disabilities, requiring evaluation by multiple medical professionals along with financial projections to estimate the full extent of your damages. We will not hesitate to consult top professionals to support your case.
Our attorneys have over 20 years of experience in personal injury law. They are both savvy negotiators and seasoned litigators. Negotiation skills are of particular importance, since most personal injury cases are settled out-of-court rather than in a court trial. We have obtained millions of dollars in both out-of-court settlements and trial awards for our clients.
Obtain Full and Fair Compensation for Motorcycle Injuries
Motorcycle riders who are injured in a crash caused by a negligent car or truck driver may be able to recover substantial compensation. For advice on the quality of your claim and assistance in obtaining the maximum financial settlement, contact the personal injury attorneys at McNamara Phelan McSteen, LLC at 815-727-0100. We handle personal injury cases for clients in Cook County, DuPage County, Grundy County, Kankakee County, Kendall County, and Will County.