Joliet Slip-and-Fall Accident Lawyer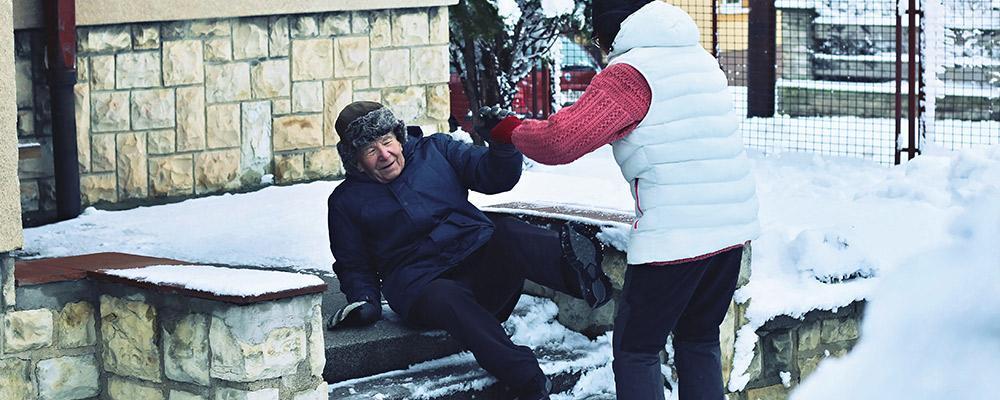 Attorney for Trip and Fall Injuries Caused by Property Owner Negligence in Joliet, Lockport and Romeoville
Slip-and-fall stories are as common as water. We have all wiped out on an icy walkway at some point in our lives.
But when can you make a legal claim for injuries and damages caused by a slip-and-fall? You could have a valid claim for financial compensation if your accident meets these criteria:
You slipped, tripped, or fell on someone else's property.
You sustained injuries severe enough to require medical treatment.
Your injury was caused by unsafe conditions on the property that the property owner--or the occupant in control of the property, such as a commercial tenant--should reasonably have known about yet failed to remedy in a timely manner.
At McNamara Phelan McSteen, LLC, we understand the hardships you may experience as the result of a slip-and-fall. What might sound like a minor incident can actually cost you thousands of dollars in medical expenses, lost earnings, and pain and suffering.
Our attorneys will be tenacious in gathering facts and evidence to support your claim. From this foundation, we will build a compelling narrative about the negligence that led to your accident and its effect on your life. We will then argue vigorously for you to receive full compensation for all of your damages. Our firm has obtained millions of dollars for our clients in slip-and-fall settlements.
Common Slip-and-Fall Locations
You can make a claim for slip-and-fall damages incurred on virtually any type of property including:
Apartment complexes
Healthcare facilities, such as hospitals and clinics
Hospitality facilities, such as a hotel, restaurant, or bar
Office buildings
Places of recreation, such as a swimming pool or amusement park
Places of service, such as a carwash or beauty salon
Retail stores
Private homes
Government or public buildings, such as a county courthouse or public library, subject to limitations defined in the Illinois Local Governmental and Governmental Employees Tort Immunity Act (745 ILCS 10)
The key factor is that your accident must have been due to some type of negligence on the party of the property owner, meaning that they knew or reasonably should have known about an unsafe condition and failed to remedy it in a timely manner.
Examples of Unsafe Conditions in Will County
Here are a few examples of unsafe conditions that may qualify for a slip-and-fall claim:
Hoses, electrical cords, or foreign objects that create a tripping hazard.
Grease spill or broken glass on a restaurant floor that was not quickly cleaned up or marked as a hazard.
Damaged or missing handrails or guardrails on stairs, decks, or balconies.
Failure to block off or post warning signs about a known unsafe area, such as an area where digging, concrete pouring, or other construction is taking place.
A faulty door that sticks or opens unexpectedly, which can cause a person to lose their footing.
Damaged flooring or abrupt changes in floor level, particularly if the hazard is not obvious due to poor lighting.
Unnatural accumulation of ice, snow, or water, as from a leaking pipe.
Remember that the legal standard is "reasonable" not "perfect" care. For example, Illinois property owners cannot be held liable for natural accumulations of snow and ice nor for imperfections in its removal.
Obtain Compensation for Slip-and-Fall Injuries in Kendall County
If you sustained a significant injury in a slip-and-fall, and your accident can be directly connected to unsafe conditions that the property owner or business operator should have known about and corrected, seek advice from a lawyer as soon as possible. Contact the Joliet office of McNamara Phelan McSteen, LLC at 815-727-0100. We handle personal injury cases for clients in Cook County, DuPage County, Grundy County, Kankakee County, Kendall County, and Will County.