Will County Divorce Lawyer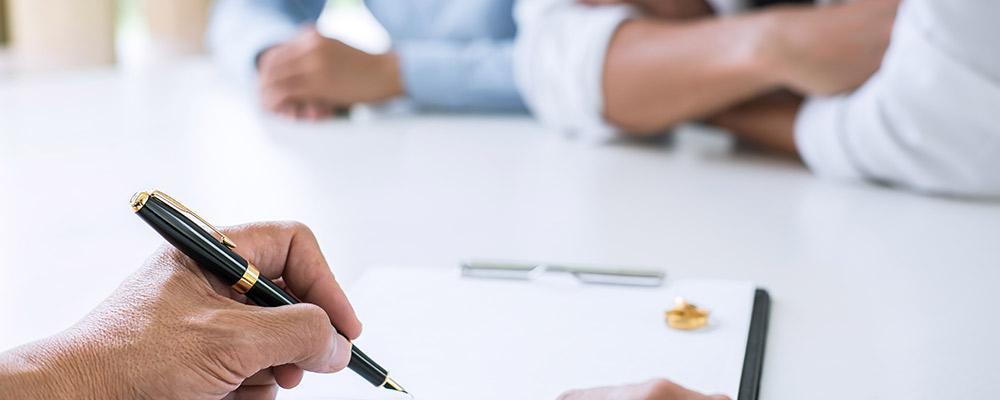 Attorney Handling Parenting Time, Child Support and Asset Division in Plainfield, Shorewood and Joliet
If you have decided that you must file for divorce—or if you have just been served with divorce papers from your spouse—you should know that very few people are able to handle the myriad details of a divorce on their own. In addition, by the time a marriage has eroded to the point of divorce, there has typically been a significant breakdown of communication; this makes it very difficult to self-negotiate the terms of a divorce. A lawyer, as a neutral third party, can significantly ease the stress and pain of the divorce process.
At McNamara Phelan McSteen, LLC, we understand how difficult the divorce process can be, even when you have prepared yourself for it. We have over 20 years of experience in handling all matters related to a divorce, and you can rely on our knowledge and skill to safeguard your legal rights and financial interests throughout the process.
We firmly believe in the principles set forth in the Illinois Marriage and Dissolution of Marriage Act (750 ILCS 5), which are to:
Promote the amicable settlement of disputes between divorcing spouses.
Mitigate the potential harm to spouses and their children caused by the process of divorce.
Recognize the right of children to a strong and healthy relationship with both parents, and the right and responsibility of parents to create and maintain such relationships.
With these principles in mind, we make every effort to settle the terms of your divorce through negotiation and/or mediation. We are well-schooled in negotiation strategies, and we are trained and registered as Will County Family Law Mediators. However, we recognize that there are situations that are simply not amenable to negotiation. In such situations, we will argue forcefully on your behalf in court, where a judge will decide any remaining disputes.
Current Facts about Illinois Divorce Law
Here are a few basic facts about Illinois divorce law, current as of 2019:
Residency requirement:

You must be a resident of Illinois for 90 days prior to filing for a divorce. Any minor children must have been Illinois residents for at least 6 months.

Grounds for divorce: All divorces are granted on the grounds of "irreconcilable differences."
Waiting period: There is no mandatory waiting period for a divorce in Illinois.
Processing time: The length of time it takes to obtain a divorce depends primarily on how long it takes you and your spouse to reach agreement on the terms of your divorce. If you have no children and minimal assets, and you have already agreed on the terms of your divorce prior to filing, your marriage could be legally dissolved in just a few months. A more typical time frame is six to 18 months.
Contested or uncontested divorce: If you are able to present the court with a completed Marital Settlement Agreement (plus an Allocation Judgment of Parenting Time and Parental Decision-Making Responsibilities if you have children) your divorce is termed "uncontested." If you and your spouse do not agree on all of the divorce terms, or if your lawyers must present your case to a judge to decide, your divorce is termed "contested."
Steps in the Divorce Process for Will County, Illinois
Our experienced divorce lawyers have the skill and experience you need to guide you through a divorce and to arrive at settlement terms that meet your objectives. The typical steps in an Illinois divorce include:
File the initial court petition for a Dissolution of Marriage and have your spouse served with papers.
As needed, file petitions for temporary spousal support, known as maintenance, and temporary child support.
As needed, file petitions for temporary restraining orders to protect you from:

Extraordinary expenditures by your spouse, or their concealment, transfer, or disposal of assets.
Domestic violence or interference with your personal liberty (i.e., an order of protection), which may include awarding you exclusive possession of your marital residence.
Removal of your children from the jurisdiction of the court.

Negotiate the terms of your Marital Settlement Agreement, including:

Maintenance payments

, also known as spousal support or alimony.

Child support payments.
Other issues, e.g., ownership of pets, payment for a child's college education, or visitation time for grandparents.

If you have minor children, negotiate the terms of your Allocation Judgment (parenting plan), including:

Allocation of parental decision-making responsibilities, formerly known as legal custody.
Allocation of parenting time, formerly known as visitation.

If necessary, the court will hear arguments from both sides and decide any disputed issues.
When all terms of your divorce have been settled, we will represent you at the required prove-up hearing to formally present your Marital Settlement Agreement to the court for approval.
Divorce Attorney Serving Will County, Illinois
The attorneys of McNamara Phelan McSteen, LLC are committed to providing the sound legal and financial advice you need to ensure your post-divorce security. Contact us at 815-727-0100 for a free consultation. We serve clients throughout Will County including the cities of Bolingbrook, Frankfort, Homer Glen, Joliet, Lockport, Mokena, New Lenox, Plainfield, Romeoville, and Shorewood.