Joliet, IL Traffic Ticket Defense Lawyer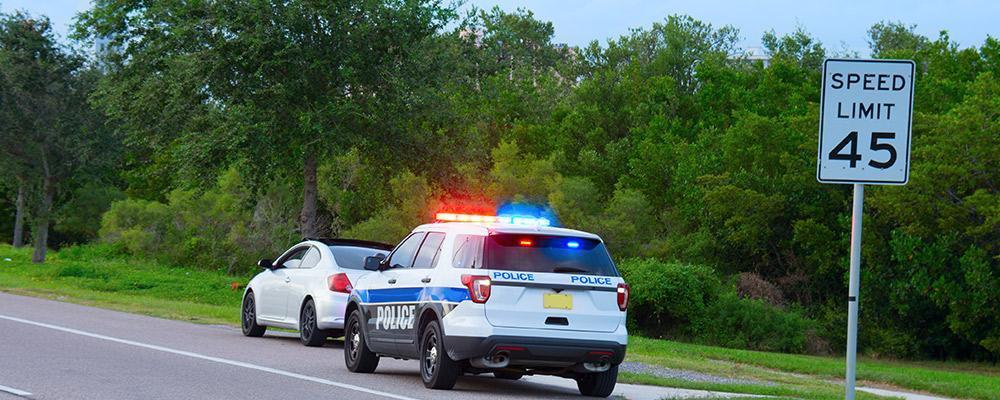 Attorney Defending Traffic Violations in Will County, Kendall County and Grundy County
When you or a loved one gets a single traffic ticket for a minor offense like rolling through a stop sign, it may seem easy to shrug it off and just pay the fine. Yet some traffic violations can be far more costly. For example, if you have three moving violation convictions within one year, the Illinois Secretary of State can suspend your driver's license. For drivers under age 21, it takes just two moving violation convictions within two years to have your license suspended.
If you live in Chicago's western suburbs, you need to drive to survive. Can you imagine what you would do if you or any member of your family lost their driver's license?
Fear of suspension is not the only reason you might want to fight a traffic ticket. Traffic violations can cause your auto insurance company to raise your rates or even cancel your policy. If your job requires driving, some moving violations can put your livelihood at risk. You could even be looking at a misdemeanor or felony conviction, something that goes not just on your driving record but on your criminal record.
At the law firm of McNamara Phelan McSteen, LLC, we understand that traffic violations can happen to anyone. Most drivers have no idea how severe the consequences can be. If you find yourself in this situation, we can help.
Your case will be handled by one of our experienced traffic defense attorneys who will carefully review your case to pick out errors in police procedure and review the legal details of your case that could be misread by a prosecuting attorney. We have the knowledge and experience in the county court system to help get traffic violations and their corresponding penalties dismissed or reduced. We are committed to providing an astute legal defense and minimizing the effect of a traffic violation on your life.
Defense for Traffic Tickets and Serious Driving Offenses
A serious traffic violation can result in cancellation of your auto insurance or a stiff increase in your rate, substantial fines, the suspension or revocation of your driver's license, and other penalties such as jail time, probation, or community service.
We can provide the legal advice and proactive defense you need to fight a traffic violation. Consulting a lawyer is especially recommended in cases such as:
Driving under the influence of drugs or alcohol (DUI): A repeat DUI offense is significantly more serious than a first DUI offense.
Driver's license suspension offenses:
When multiple tickets have stacked up and your driver's license is at risk, we may be able to help you avoid a new conviction and the hardship of a license suspension.
If you are caught driving while your license is suspended, you can be charged with a Class A misdemeanor and the length of your suspension can be increased.
If your license was suspended for DUI and you are eligible to drive only a breathalyzer-equipped vehicle, you can be charged with a Class 4 felony if you are caught driving without the required Monitoring Device Driving Permit (MDDP) and Breath Alcohol Ignition Interlock Device (BAIID).
Reckless driving: If a police officer believes you were driving "with a willful or wanton disregard" for the safety of other people and their property, you can be charged with reckless driving. By way of example, someone might be charged with reckless driving on a highway if they made multiple rapid lane changes around other cars without signaling while traveling more than 25 miles per hour over the speed limit. Reckless driving is a Class A misdemeanor, assuming no one was injured in the incident. You can be charged with aggravated reckless driving, a Class 4 felony if another person suffers great bodily harm such as broken bones, or permanent disability or disfigurement such as brain damage or loss of an eye or limb.
Leaving the scene of an accident or hit and run: When you are involved in a car accident, Illinois law requires you to stop, exchange information with other people involved, and render aid to anyone who is injured. Failure to do so is a Class A misdemeanor. If you leave the scene of an accident without complying with those requirements, and the vehicle damage is over $1,000, your driver's license can be suspended. If you leave the scene of an accident involving personal injury or death, you can be charged with a felony.
Speeding more than 25 miles per hour over the limit:
26 to 34 mph

over the speed limit is a Class B misdemeanor punishable by up to 180 days in jail and/or a fine of up to $1,500.

35 mph or more over the limit is a Class A misdemeanor punishable by up to one year in county jail and/or a fine up to $2,500.
Driver's License and Traffic Ticket Defense Attorney in Joliet
When you need an experienced traffic ticket defense attorney, contact the Joliet office of McNamara Phelan McSteen, LLC at 815-727-0100 for a free initial consultation. We serve clients facing criminal charges in DuPage County, Grundy County, Kendall County, and Will County.