Joliet Illinois Gun Possession Defense Lawyer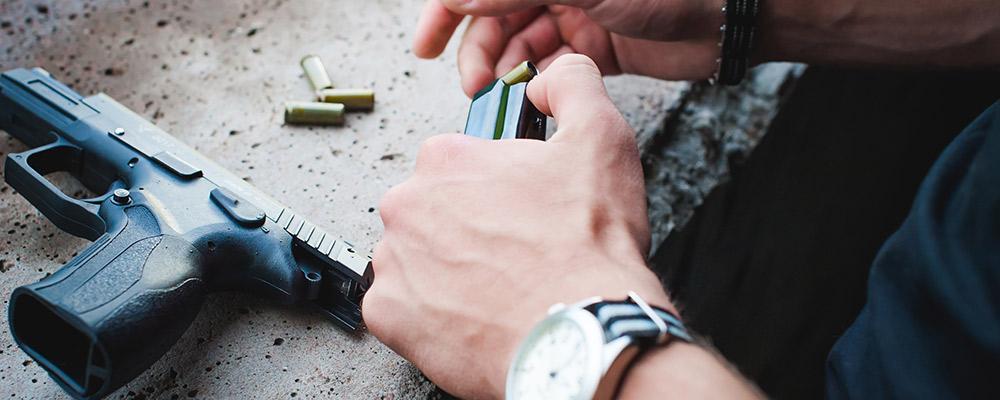 Weapons Charges Defense Attorney Serving Will County, Kendall County, Grundy County, and DuPage County
Over two million Illinois citizens, roughly 20 percent of all adults in the state, are lawful firearms owners with Firearm Owners ID (FOID) cards. Over 250,000 of them are Concealed Carry License (CCL) holders. If you are one of these, it is important to be aware of the laws governing firearms possession to avoid an unintentional violation. However, an estimated 80 percent of gun crimes involve illegally-owned firearms. Weapons charges can also arise from possession of dangerous knives, stun guns, tasers, brass knuckles, weighted striking devices such as blackjacks, and even pieces of broken glass.
At McNamara Phelan McSteen, LLC, we support individual firearms ownership as guaranteed by the Second Amendment to the US Constitution. If you are a lawful firearms owner and find yourself charged with a FOID or CCL violation, or perhaps drew your firearm while in fear for your life, we will staunchly defend you.
Weapons charges can also arise from situations involving domestic violence, mental health or drug use disorders, and youthful impulsiveness. If you or a loved one becomes embroiled in such a situation, we can help.
Attorney Todd J. Polito is a knowledgeable and experienced criminal defense lawyer. Born and raised in Joliet, he has practiced criminal defense and family law in Will County and its neighboring counties since 2012. Prior to that, he served for four years in the US Navy and spent 12 years in executive roles with an international corporation. His forthright manner and persuasive communication style make him well-suited to negotiate a positive resolution for clients facing weapons charges.
Introduction to Illinois Firearm Laws
Illinois firearms owners are required to have a state-issued FOID card in their possession when transporting or buying firearms. A FOID card is valid for 10 years from the date of issuance plus a grace period of 60 business days if you have filed for renewal prior to its expiration date. When transporting firearms without a CCL, your firearms should be unloaded and enclosed in a case or else placed in the trunk of a vehicle or a similar location that is inaccessible.
Any US citizen residing in the state may qualify for a FOID card, although persons under age 21 must have the written consent of a parent or guardian who qualifies for a FOID card. For specific disqualification criteria, see the Illinois Firearm Owners Identification Card Act (430 ILCS 65/).
Illinois residents at least 21 years old may also qualify for a Concealed Carry License (CCL), which can be carried in place of a FOID card. Be aware that Illinois law details a long list of places where firearms are prohibited even if you are a CCL holder.
Weapons Charges in Will County & Illinois
Attorney Polito is well-prepared to defend clients against weapons charges such as:
FOID violations

.

Possession of a firearm by someone who qualifies for a FOID card but whose card has been expired for 6 months or less is a petty offense. Possession with no FOID or a card that has been expired for more than 6 months is a Class A misdemeanor for a first offense.

CCL violations. Carrying in a prohibited location is a Class B misdemeanor for a first offense. Carrying while intoxicated is a Class A misdemeanor for a first offense.
Underage possession of firearms. Except when participating in lawful recreational activities such as hunting or target shooting, possession of a concealable firearm such as a handgun by a person under 18 years of age is a Class 4 felony. Possession of any firearm or ammunition by a person under 21 years of age who has a criminal or juvenile delinquency record is a Class A misdemeanor.
Unlawful use of weapons. The following offenses are Class A misdemeanors: Any possession of a black-jack, brass knuckles, throwing star, or switchblade knife; possession with intent to threaten or harm someone with a dangerous or deadly weapon (e.g., stiletto knife or stun gun); improper personal carry or transportation of a firearm (e.g., no CCL, no FOID, or firearm not unloaded and cased).
A Joliet Weapons Violation Lawyer You Can Trust
If you or a loved one has been charged with a FOID, CCL, or other weapons violation, choose a lawyer who believes in the Second Amendment. Contact the Joliet office of McNamara Phelan McSteen, LLC at 815-727-0100 for a free initial consultation. We serve clients facing criminal charges in DuPage County, Grundy County, Kendall County, and Will County.