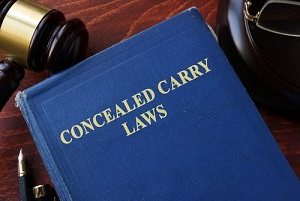 Having a gun on your person or in your car in Illinois without a concealed carry permit is a gun crime. Illinois does not allow open carry, which is the practice of openly having a firearm in public. Therefore, in order to go anywhere with a gun outside of your home, you must have a concealed carry permit in Illinois (excluding transportation of firearms, which only requires the gun to be contained in an enclosed case).
Only people who are 21 and older, who have completed the appropriate training course, and who have a Firearm Owners Identification Card (FOID) may have a concealed carry permit, and only handguns may be concealed. While following these rules may seem onerous, they are absolutely essential for preventing criminal charges. If you have been charged with a concealed carry permit violation, you may want the help of a criminal defense attorney.
Concealed Carry License Violations in Illinois
Certain areas may not have guns brought into them, even with a concealed carry license. Schools, government buildings such as courthouses, and buildings in state and national parks do not allow concealed carrying. Carrying or using a firearm illegally in these places, even with a concealed carry license, is considered an Unlawful Use of a Weapon (UUW) offense.
...